Big Data Poll

September 26, 2018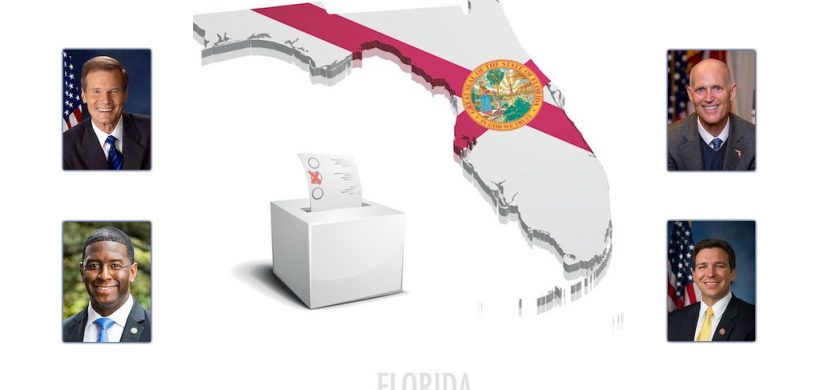 Sunshine State Battleground Poll
Summary Findings
The Sunshine State Battleground Poll for September conducted interviews with 826 likely voters in Florida from September 21 – 24, 2018.
Approval Ratings
The survey asked respondents about their approval of the president, the governor and the incumbent he faces in a highly contested and competitive race for U.S. Senate.
Overall, do you approve or disapprove of the way Donald Trump is handling his job as President?
In September, Florida voters' views surrounding President Donald Trump's job performance have softened in intensity. The president is slightly above water in the Sunshine State, with 48% approving of the way he is handling his job, 46% disapproving and 6% undecided. That includes 39% who strongly approve and an almost identical 40% who strongly disapprove.
"We've not found that high of an undecided number in months. People have strong feelings toward President Trump, and not too many are undecided," BDP Director Rich Baris said. "This softening could be a very good sign for him in Florida. But we'll see in future polling."
Do you approve, or disapprove, of the job Rick Scott is doing as Governor?
Republican Governor Rick Scott remains popular statewide, but the campaign has taken a toll. Now, 49% of voters approve of his job performance and 44% disapprove.
Do you approve, or disapprove, of the job Bill Nelson is doing as Senator?
Democratic Senator Bill Nelson remains popular statewide. Now, 56% of voters approve of his job performance and 37% disapprove. That is significantly higher than previous BDP Sunshine State Battelground Polls, and does reflect general movement toward Democratic candidates.
U.S. Senate
The U.S. Senate race can be summed up as a contest between and of popularity and incumbency. David Weeks and Michael Levinson, both declared independent candidates, were included in the survey.
Republican Governor Rick Scott holds a slight 1-point edge over incumbent Democratic Senator Bill Nelson, 43% to 42%. That's down from a high of 6 points and the closest we've found the two candidates since February.
Gov. Scott (41%) and Sen. Nelson (42%) are essentially splitting the Hispanic vote. The gains for the incumbent came among white voters, particularly white seniors. White voters overall still back Gov. Scott, but by a more narrow 49% to 39% margin.
Gubernatorial
As with the upper chamber contest, Big Data Poll included all 8 declared gubernatorial candidates in the poll. To replace Governor Scott, Democrat Andrew Gillum leads Republican Ron DeSantis, 44% to 40%.
Mr. Gillum leads Mr. DeSantis among independent female voters, 45% to 29%. Further, the percentage of female Republican crossover vote is about 6% greater than the female Democrat crossover vote.
The gubernatorial vote preference among male voters in Florida is interesting, but in truth rather unsurprising given the candidates. Independent male voters split their vote between the two candidates at 44%.
While male Democrat crossover is about 10% greater than male Republican crossover, Mr. Gillum's margin among women offsets it.
If Rick Scott does end up edging out Bill Nelson and Andrew Gillum defeats Ron DeSantis, it'll be the first time voters in the Sunshine State have split the statewide ticket since 2006. Then-Republican Governor Charlie Crist and Bill Nelson both easily won their statewide elections that cycle.
Top Voting Issues
Thinking ahead to November, which issue would you say is MOST important to your midterm vote?
The Economy and Jobs remains the top issue among voters in Florida at roughly 32%. However, at just under 26%, Healthcare continues its steady rise as a top concern as economic sentiment remains high. Immigration and Border Security came in third at just under 21%.
Big Data Poll also asked two questions relevant to Mr. Gillum's political views. Interestingly, despite voter preference at the gubernatorial level, they didn't test well.
State Income Tax
Would you ever consider voting for a governor who supports imposing a state income tax?
By a 56% to 19% margin, Florida voters say they'd never consider voting for a gubernatorial candidate who supports imposing a state income tax. Roughly a quarter (24.2%) were unsure or undecided.
"It's important to note that these questions could not be asked under any circumstances before the ballot tests," Mr. Baris added. "We've noticed some firms inserting potentially bias-tainted questions before approval ratings and ballot tests. We do not, and no pollster should, approve of that practice."
Socialism
Socialism is defined as an economic, and political system, in which the means of production are owned and controlled by the State, not individuals and companies. Would you ever consider voting for a socialist governor in Florida?
By a 61% to 24% margin, voters in Florida say they'd never consider voting for a socialist gubernatorial candidate.
"This is a good old-fashion messaging issue. Rep. DeSantis was put on the defensive within 24 hours of their primary victories and the campaign hasn't been able to regain control of the message," Director Baris added. "Big majorities of voters in Florida oppose a policy and a political view his opponent supports and shares. He is just not making the case."
Questionnaire
View the survey wording and questionnaire below. Note that for the IVR collection mode portion of the survey, rotations, achors, etc. are depicted on the questionnaire.
AAPOR TI
Big Data Poll complies with AAPOR's Transparency Initiative. View the TI checklist by clicking the link below.
Methodology
Big Data Poll conducted a mixed-mode phone and online survey of 826 likely voters in Florida from September 21 – 24, 2018. The sampling error is ±3.4% with a confidence level (α) of 95%. Interviews were conducted via Interactive Voice Response (IVR) software designed by Voicent Communications, and respondents were given a Spanish option. The survey was self-sponsored by Big Data Poll (PPD Ventures LLC).
Data was weighted for gender, age, gender, race, education, income and region. Weighting also reflects likely voters based on responses, interest and prior voting history, as well as state demographics in the voter files.